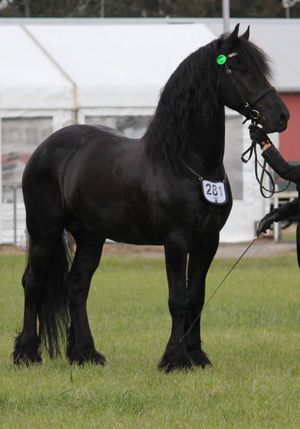 WELCOME! 
To Twin Rivers Stud - we began breeding horses in 1998 and, as pleasure riders, utilised the tried and true Australian Stock Horses until we met our first Friesian Stallion - Dagho Friso  - then began our amazing adventure with this incredible breed.
Utilising our best Australian Stock Horse mare - Nambucca April, we were blessed with our first Friesian Warmblood - Twin Rivers Beau.  Since then we have used a number of different mares (purebred Friesian, Percheron/Friesian cross; TB/Quarterhorse/Friesian cross; Quarterhorse; Arab/Friesian Cross; Stockhorse/TB cross; Thoroughbred), chosen for their conformation and temperament, to assess whether the resulting offspring's nature, temperament, conformation and character varied from the different crosses used.
Todate we have found that the quiet and trainable natures of the Friesian has passed on to all of our foals - purebred and partbred.  Yes they vary in character - some are VERY bold and in your face, whilst others like to build a relationship of trust with you before becoming a friend for life, but all have proven to be so willing and trainable, and it has been wonderful to hear how they have gone on with their new owners to exceed expectations.
Our past breeding program has seen us use amazing Australian based Friesian Stallions such as Age B, Hotse, Saor, The Wizard, Dirk (dec), Gandolf (now gelded), Greon (now gelded) and of course Dagho (now retired).
August 2011 saw me thoroughly spoilt by being able to travel to the native country of the Friesian Horse with a dear friend, Grace Lamers, to select our foundation purebred Friesian mares - Romi van Dulve and Afke van Dulve.
We breed a small number of pure and partbred Friesians each year and continue to help other people realise their own dreams in owning one of these incredible horses.
We enjoy people coming to visit our stud and meet our furbies - sometimes one pair of hands is just not enough when you have a number of foals looking for cuddles  :)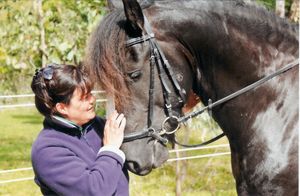 Nov
ember 2011
saw us enter the next phase of our stud by having our own beautiful purebred Friesian Stallion 
Wilbert van Gelder
  (BB1)  be trained for semen collection.  We were blessed with 5 crossbred foals by Wilbert, all of which had legs as long as their dams when they hit the ground, great conformation and movement, and character galore!


We hope that you enjoy your visit to our Stud webpage, and would welcome any feedback you may have.


Should you find yourselves visiting the South West Victoria area, please contact us by telephone to arrange a visit and meet our beautiful Friesians.





 
Originally established between the Hopkins and Merri Rivers, Twin Rivers Stud is now located on the eastern outskirts of Warrnambool on the banks of the Hopkins River.

We have a total of 126acres of land for our horses, cattle and Aussie Bulldogs to enjoy.  We have been progressively developing our most recent property to ensure that our livestock are all safe, installing new sighter wire horse friendly fencing to avoid/reduce the risk of injury.

On top of this, we installed an approved on-property surveillance quarantine facility in October 2011 to facilitate the arrival and ongoing quarantine requirements of our two imported purebred mares - Romi and Afke.  April 2012 saw the mares released from quarantine having both delivered their beautiful foals, and been declared clear of any foreign disease.