Vincent of Twin Rivers :
Norbert 444 x Jorn 430 x Jurjen 303

November 2018 saw our very special Vincent of Twin Rivers not only turn 4 years old, but come full circle in our Twin Rivers breeding program - Vincent was a frozen semen, embryo transfer foal - and our enormous thanks to Dr Steve Williams, his wife, Michelle, and the fabulous team at Total Eqine Genetics, Camperdown, for their expertise in helping us deliver Vincent's first foals in November & December 2018.  Hannes, Hugo & Sapphire are all growing in to beautiful Friesians, and are now being offered for sale - please contact us for more information.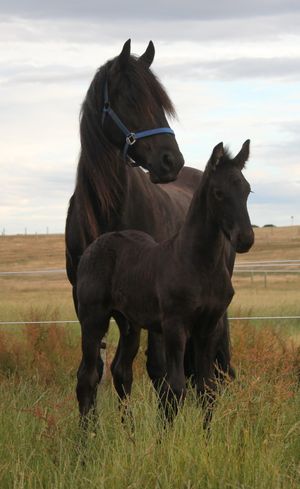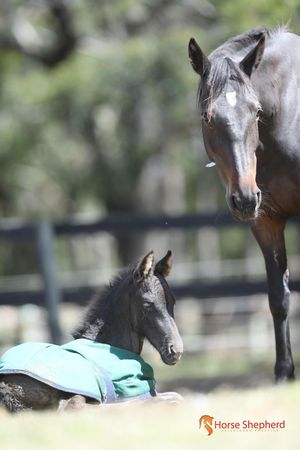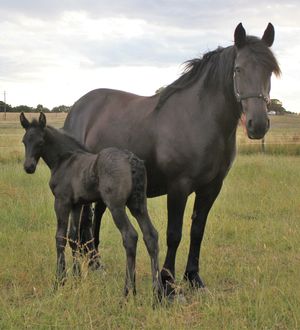 ---
Twin Rivers first progeny at the 2015 ANZFHS KFPS Victorian Keuring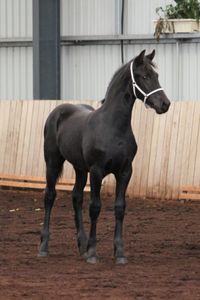 Saturday 27 March 2015 saw Twin Rivers Friesian Horse Stud present their first progeny at the 2015 ANZFHS KFPS Keuring - Victoria event, and our precious Tineke of Twin Rivers awarded a 2e Premie rating!   and her dam, Iisha of IFB was included in the adult studbook 
Equitana 2014 ~ Steve Cox Unique Performance Horses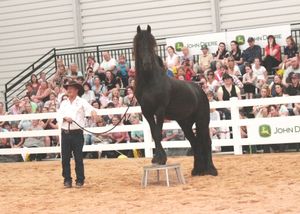 Equitana 2014 ~ Steve Cox Unique Performance Horses
Our dear friends at Wildcroft Friesian Horse Stud invited us to share a stand with them in the breed village at Equitana Melbourne 2014 - and what an experience.
True horsey heaven surrounded by our Black Pearls and allowed to talk 100% Horses (well, ok, FRIESIANS - LOL!!), all day for 4 glorious days, and meet so many wonderful people.
Steve Cox had approached us about working with Wil for a few weeks beforehand so we could demonstrate another aspect of this amazing breed, and do a liberty demonstration in the John Deere arena - and what a fantastic show Steve and Wil put on!, we were messmerized by this amazing horseman, and what he had accomplished with teaching Wil in the few short weeks he had been at
  his training farm in Nanneellah (near Echuca, Vic).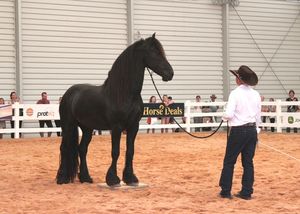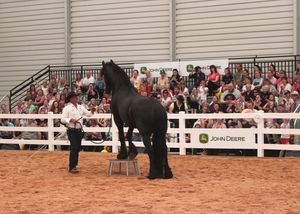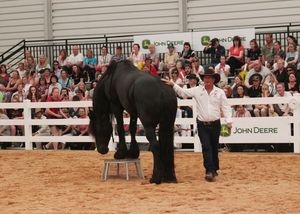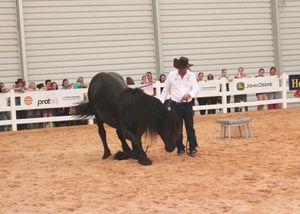 ---
Baroque Horse Beach Ride ~ 13th Beach, Barwon Heads, Victoria

Baroque Horse Beach Ride ~ Barwon Heads ~ 13th Beach

A rather overcast day brought about some of our most fun-filled and memorable horse moments ever!!  We were invited to attend a Baroque Horse Beach Ride that was organised by Hayden & Allison Tomlinson, and we would encourage all other Baroque Horse owners to attend the next one!!  Was a great day, and the amazing photographic talent of Lisa Green captured the event, and will feature in the June/July issue of Baroque Horse Magazine - can't wait!!

Please enjoy some happy snaps taken by our family - great people, great horses, GREAT FUN !!!

Will add the link to the article in the June/July 2014 issue of
Baroque Horse Magazine once it has hit the newsagencies!
2014 RASV Summer Royal Show