Cobbigan Nikki - Friesian/Percheron Cross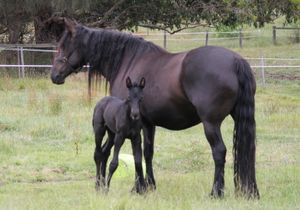 Nikki was my pseudo Friesian Mare - all the qualities and looks AND certainly character of a purebred, but is 25% Friesian (Dagho)  : 50% Percheron : 25% Thoroughbred  !!

Nikki has blessed us with 4 foals - Twin Rivers Jazzmyn (by The Wizard) in 2009 who is now part of Wilma's family in Melbourne,  Twin Rivers Manolo in 2012 (sadly deceased 2017), Twin Rivers Nikita in 2013, Twin Rivers Oakleyd in 2014, Twin Rivers Preston in 2015, and Twin Rivers Quintari in 2016, all sired by our Wilbert van Gelder - and looking like purebreds rather than partbred Friesians.

Nikki is in foal to our very own Vincent of Twin Rivers for a foal due late 2018.
_______________________________________________________________________________________________________________________________________
Oberne Park Kiantabella - First Cross Andalusian Mare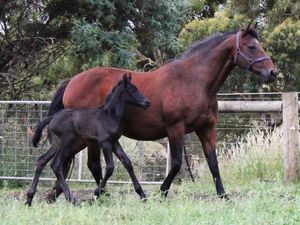 Kia has played an enormous role in the development of our Twin Rivers Friesian Horse Stud - she first joined our family as a foster mum to Romanni (aka Anni) when her mum, Romi fan Dulve, prolapsed after foaling.  Having carried twins to full term, to unfortunately have them both die within a week of being born, Kia was desperate for a baby, and we were looking for a great mum to take Anni on.  No drugs, no restraints, it was as if Kia and Anni were always mare & foal.

The following season we flushed Afke for a Norbert frozen semen embryo which was transferred to Kia, and our handsome Vincent was created!
The following year we were blessed with Kia's filly by our Wil, and Porscha was poetry in motion.  This 2017/18 season sees us have another Kia filly bless our stud - Rhapsody is so light and athletic on her feet - we sit mesmorised by her movement.
Kia will be retired from our broodmare program on weaning of Rhapsody, so she can enjoy her twilight years as a nanny and babysitter for us.
---